News & Gallery
NEWS UPDATES

21-5-2020
Announcement
UPDATE: CUSTOMER CARE COUNTER OPEN TO WALK-IN CUSTOMERS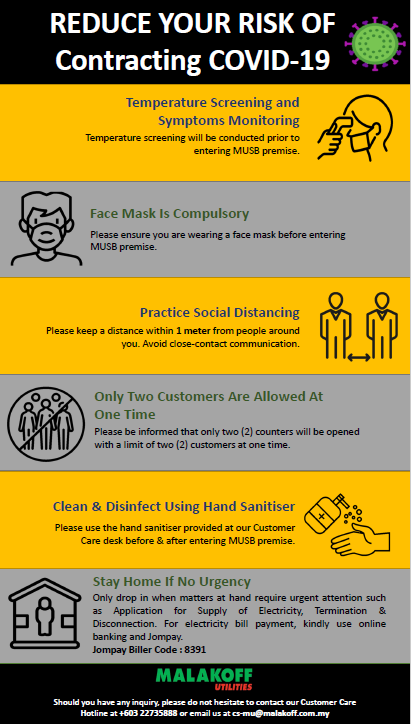 Dear Valued Customers,
Kindly be informed that our Customer Care counter are open to walk-in customers starting from 21/05/2020 (Thursday). Only drop in to our office when matters at hand require urgent attention such as Application for Supply Electricity, Termination & Disconnection. For electricity payment, kindly use online banking and JomPAY.
Our Operation our During Ramadhan is from Monday - Friday (8.15 am - 4.30 pm). We are open during Lunch hour except for Friday, our Customer Care counter will be closed from (12.45 pm - 2.15 pm)
Should you need further assistance, please do not hesitate to contact our Customer Service Hotline at +603 22735888 or email us at cs-mu@malakoff.com.my
Thank you.